There is a game genre that we always love, regardless of the good story or beautiful graphics, but the majestic effects, vivid sound plus hordes of monsters. The heap is one of the most satisfying experiences. This feeling has originated from the legendary RPG games, and for you to love these tight-cut games to be satisfied, I will list here the top 8 best hack and slash games for you to experience.
1. Darksiders 3
Platforms: PlayStation 4, Xbox One, Microsoft Windows
Genres: Action-adventure game, Hack and slash
Mode: Single player
Darksiders 3 ís set in the post-apocalyptic world, when humans became extinct, angels and demons set the world. Inside the chaos of a desolate world, you will play as one of the Four Horsemen with the fate of rebalancing the world.
The Darksiders game is one of the first games with extremely eye-catching cutting scenes, with the maphack mechanism and monsters always rushing to you, you will not stop cutting hands incessantly. And especially the plot and gameplay of Darksiders are also very diverse and attractive, certainly will be one of the games played forever and not in the list of brothers.
In Darksiders 3, we will have drastic improvements in graphics, beautiful effects, and bring the most quality features of AAA games. The return of some characters as well as the plot is more attractive and attractive, everything seems to be coming to an end but where that ending is still open. A worthwhile upgrade of Gunfire will certainly not disappoint you.
2. Devil May Cry 5
Platforms: PS4, Xbox One, PC
Genres: Action-adventure, hack and slash
Modes: Single player. multiplayer
The legendary game of Capcom also brings the highest experience of cutting-edge games. Unlike the other guillotine games, DMC does not bring the feeling of fighting with many monsters, while in DMC, you will mostly fight with a single goal.
DMC's combo sets are extremely top-notch and beautiful, which is why this game is so popular. A DMC combo can last up to half a minute with countless effects and especially without repetitions, an extremely thorough and sophisticated design investment by Capcom.
Devil May Cry 5 is probably the best version of DMC ever, after more than 10 years of waiting for people to see the blockbuster of Capcom again. With the graphics, progress can be said to be among the top current, featured skill effects and beautiful combos, DMC 5 deserves to be one of the best hack and slash games this year.
3. God of War
Game genres

: Action, adventure

Game mode: Single player
Platform: PlayStation 4
Age rating

: 18+
Referring to the hack-and-slash game without Kratos, it would be a big mistake, this is a game that may not need to introduce much to you right. Our war deity is on the way to destroying Greek gods with incredibly engaging encounters. His twin knives are probably one of the most legendary weapons in gaming, an irreplaceable monument worldwide.
GoW's latest version witnessed the mature, somewhat old brother of Kratos. And perhaps a transfer of him to his son Atrus, maybe the next versions Atreus will be our main character. Returning to the fifth edition, the graphics are, of course, the eternal strength of Sony.
Combined with extremely different combat compared to the previous versions, the puzzle elements, complex handling is what separates GoW from the previous versions.
4. Bayonetta 2
Platforms: Nintendo Switch, Wii U
Genres: Action, hack and slash
Modes: Single player, multiplayer
Set in a city called Virgid, a fictional city in Europe. You will play a hot witch but also very dangerous, with strong and diverse attack power you will confront monsters, angels, demons.
With the combo somewhat similar to Devil May Cry, creating a character that reminds me of the Matrix movie, Bayonetta brings a strange and familiar feeling, especially the combat scenes of this game are extremely Bloody, if any brother loves true but also hardcore, emotion, Bayonetta is not a bad choice.
Our sorceress Cereza is back to save the world, and in Bayonetta 3, the brothers will surely experience the best of Twitch. But … 1 year after the official trailer released, Bayonetta 3 became silent as if nothing had happened. Maybe we should wait a bit longer, maybe a sudden release will happen, guys wait together.
So for the time being, you can experience Bayonetta 2, a version that also brought a lot of success to this series with what the original version brings, vivid, violent, powerful gameplay with her. Ceraza hot girl will certainly bring the most satisfying experience for hardcore lovers.
5. Diablo 3
Platforms: PlayStation 4, Xbox One, PlayStation 3, Xbox 360, Microsoft Windows, MacOS
Game genres: Action role-playing game, Hack and Slash
Game modes: Single player, multiplayer
People often remember Diablo with attractive, engaging gameplay, but few people noticed that the emotions of the combos were so tight that they wiped out the monsters who were rushing to it. From previous versions Diablo has brought a very macro combat mechanism, every one strike is one kill to kill monsters, feeling very high.
But when it comes to Diablo 3, Blizzard has brought this mechanism to a new level, it is difficult for a game with a view from above to bring a very tight guillotine feel. Every "cockroach scan" is every time the screen vibrates, the sound is vivid, the effect is eye-catching, a quality work by Blizzard.
6. Dark Souls 3
Platforms: PlayStation 4, Xbox One, and Microsoft Windows
Game genre: Action role-playing game
Game modes: Single player, multiplayer
The role-playing game is said to have some of the toughest bosses in history with a monstrous and unpredictable mechanism, which will surely take you hours to overcome a tough boss. However, Dark Souls does not bring the feeling of slashing, but like the previous games, the essence of this game lies in the slashes of the character that are always very high quality.
You just keep rolling around dodging a boss skill and launching an instant critical combo on a boss 5 times bigger than you. A tight guillotine game that requires real skills for you to want to play hardcore games, and of course, is attractive enough for you not to let go of the sword in the middle.
The best of Dark Souls 2 will be repeated in Dark Souls 3, but with better graphics with an always attractive storyline of Dark Souls and of course, the bosses only want to rush into the slash. Dark Souls 3 gives players the most satisfying, most majestic feeling when finishing a boss, and clearing this game will be a proud achievement for you.
7. Monster Hunter: World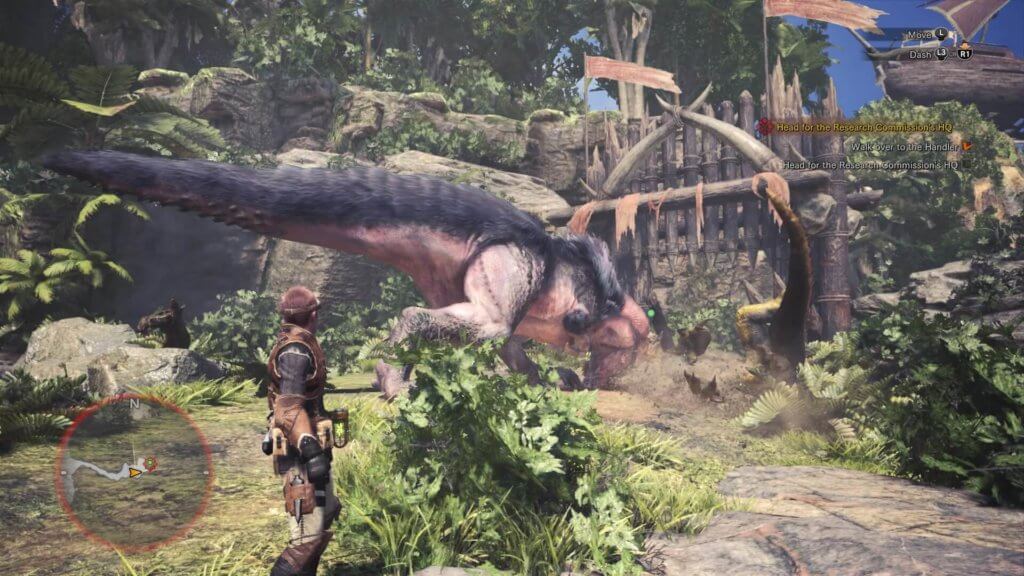 Platforms: PlayStation 4, Xbox One, Microsoft Windows
Game genre: open-world, action RPG
Game modes: Single player, multiplayer
Similar to Dark Souls, Monster Hunter is also an interesting boss hunting game. The bottom line of this game is that you will have to fight the boss continuously without any extra troops or go to exile. And these bosses are extremely powerful, you not only have to go crazy to slash these monsters, but you must also set traps, throw grenades, and put them on the wall.
This is a game that is not too heavy on the slash, the slashes released are also very good quality and to the ears, sounds like a real cut, not like other games. Monster Hunter: World is worth checking out because the player's feedback is extremely good.
Monster Hunter: World is probably the version that put Monster Hunter on the map of the best games ever. Monsters hunting is what makes this game interesting, but hunting with friends, Monster Hunter: World has brought the highest experience, never before in an online game.
8. NieR: Automata
Platforms: PlayStation 4, PC, Xbox One
Genre: Action RPG
Mode: Single player
If you love creating Japanese images, vivid, smooth gameplay, then NieR: Automata is for you. Set in the war between mechanical monsters, you will play the role of a fugitive and his companions to fight the mechanical robots created by aliens and post-apocalyptic humanity.
The game has a combo mechanism similar to Devil May Cry but it is more AOE and wider. Besides, the mechanism to evade and create characters is very cool, feeling a bit like Final Fantasy.
Summary: the best hack and slash video games
These are the games with comments and reviews from the best players, as well as unique graphics and storylines. Of course, there are still many similar games that the article cannot list here, so please comment below the game you like best for us to try it out. Besides, if you have played through these games, we would love your opinion. Thank you for reading the article!