The PlayStation is undoubtedly the promise land for the world best racing titles. If you're looking for thrilling and exciting racing experiences on your PS4, look no further since our list of PS4 racing games has it all.
1. Rocket League
Platforms: PlayStation 4, Xbox One, Nintendo Switch, Microsoft Windows, MacOS, Linux
Game genre: Sports
Game modes: Single-player, multiplayer
It's no surprise that this amazing PS4 racing game would appear on our list. With accurate and true-to-life physics, fast gameplay, and stunning visuals and effects, Rocket League is a blast to play and will ensure you tons of fun, probably the most exciting game you've played in ages.
You'll be free to perform tricks from simple to ridiculously-hard ones thanks to the awesome in-game physics, and it will only get better as your skills improve over time and your position in the rank increase. On top of that, players of Rocket League will have access to a huge collection of customizable features for both their cars and characters.
The game marks the return of split-screen racing with up to 4 players at a time. Its simple gameplay makes it super accessible for anybody, all you need is a controller to start enjoying it with your friends and families.
Rocket league comes with many exciting game modes including Season, Arena, and Online Mode, which allows you to compete with players from all over the world. Moreover, the online experience is excellent compared to most online titles nowadays, no stutter or lag is recorded throughout our test.
2. Wipeout: Omega Collection
Platform: PlayStation 4
Game genre: Racing
Game modes: Single-player, multiplayer
Like Final Fantasy, God of War, Persona, and many more excellent titles on the PS4, Wipeout is one of those few titles that have their names marked to the PlayStation platform. Ever since its first release in 1995, the franchise has been well-received for its fun and thrilling gameplay, speedy races, exciting music, awesome multiplayer battles, and not to mention the rapid combat racing style that defies any gravity boundaries.
Wipeout: Omega Collection has taken all of the best games on the franchise and put it in a single "omega" collection that features all the content from the most popular games, including Wipeout HD, Fury, and 2048. You'll be welcome to explore over 26 racing tracks, 46 awesome ships, and many exciting game modes which would be more than enough to satisfy even the most veteran gamers. On top of that, the games in the collections will be introduced in 4K resolution for the first time with enhanced graphics and music.
However, with a racing game that heavily rely on high speeds, an element that is starting to lose its interest, Wipeout: Omega Collection doesn't offer any significant changes to the franchise. Even with the introduction of 4K resolution and the return of split-screen gameplay, it's hard for the title to stand out among great PS4 racing games that have been and will be released for the PS4.
3. Gran Turismo Sport
Platform: PlayStation 4
Game genre: Racing
Game modes: Single-player, multiplayer
Gran Turismo Sport is one of those reliable racing game for both online and offline players since its first launch. The game delivers excited racing experiences with stunning graphics, realistic physics, and lots of available game modes.
However, compared to the previous games in the franchise, GT Sport is considered somewhat a cut-down as it features fewer cars and racing tracks for players to choose from. Also, the weathers don't seem to have many effects on the race. In return, Polyphony Digital has turned their pivot to online gaming experiences with improved and added content.
The Online Career mode is the best to describe it. Now players will have their chance to train, hone skills and participate in online racing tournaments against thousands of players around the world. And once you've acquired a notable position on the rank, it would feel so much better compared to playing offline.
4. DIRT Rally
Platforms: PlayStation 4, Xbox One, Microsoft Windows, Linux, MacOS
Game genre: Racing simulation
Game modes: Single-player, multiplayer
For those who love to fill their fenders with mud and dirt from the world toughest racing tracks, DIRT Rally is a must-play title for you. The game introduces up to 39 of the most iconic vehicles of the sport from the old days to present, each with their own unique looks and abilities. Choose the car that suits your style and the type of terrain.
With over 70 different stages, DIRT Rally will take you to all of the most iconic racing tracks in the world, from the dusty trails of Greece, the muddy and rainy tracks of Wales, to the icy tarmac in Monte Carlo. You'll be free to enjoy the thrilling experiences of terrain racing with every second playing the game.
With precise control and realistic physics, Dirt Rally is another great title from the famous racing game creator, Codemasters. And even though it's a difficult game, there will be no bored moment once you've played it, the game will only get better and better as your skills improve.
5. Trackmania Turbo
Platforms: PlayStation 4, Xbox One, Microsoft Windows
Game genre: Racing
Game modes: Single-player, multiplayer
Some of the most exciting PS4 racing games can have the simplest gameplay, Trackmania Turbo is a fine example when it comes to this. The game features an easy to learn, yet difficult to master gameplay, which based on time attack racing.
Players can test and improve their skills in the offline campaign mode with over 200 tracks on four different environments, each with their own characteristics. Players must do everything in their ability to break the game time limits and their own records.
Moreover, you'll also have access to the level editing options which furthermore enhance your gameplay. The multiplayer feature both online and offline options with a split-screen mode that support up to 4 players.
All in all, it's an enjoyable game that takes this twelve-year-old franchise on the PS4 platform.
6. Sebastien Loeb Rally Evo
Platforms: PlayStation 4, Xbox One, Microsoft Windows
Game genre: Racing
Game modes: Single-player, multiplayer
No one can deny Sebastien Loeb in terms of contributions to the World Racing Championship. With nine WRC title and many others throughout his career, he is no doubt one of the greatest racers in the sport. And Sebastien Loeb Rally Evo is an awesome game that lets you team up with your favorite racer in your journey to victory.
The game isn't just about the racing tracks. It tells the story of mud, dirt, snow, barrier, conflicts, and frustration, all the challenges that you must overcome to win the title. You'll truly feel like you're a part of the story at any moment.
However, players who only bought the game to enjoy thrilling and realistic dirt racing experiences might find this game not so interesting as it features little differences from other racing titles. But if you're looking for a profound and in-depth story about your idol, Sebastien Loeb Rally Evo is here to deliver.
7. F1 2018
Platforms: PlayStation 4, Xbox One, Android, iOS, Microsoft Windows
Game genre: Racing
Game modes: Single-player, multiplayer
The latest installment of the world most popular Formula One franchise witnesses the return of the famous French Grand Prix ever since 2008. Along with it, they've also brought back the German Grand Prix which hadn't appeared in the previous version. The game consists of all updated information for the 2018 Formula One season with official teams, drivers, and circuits.
It is considered the most completed F1 game up to today with improvements in both gameplay and physics. You'll have the true sensation of being able to sit on a 1000+ horsepower vehicle, and how each decision is made in a split of a second.
8. Horizon Chase Turbo
Platforms: PlayStation 4, Nintendo Switch, Xbox One, Microsoft Windows, Linux, MacOS
Game genre: Racing
Game modes: Single-player, multiplayer
Most of us millennials grow up in the time of classic sit-down racing games, so it always great to have something that takes us back to the old time to enjoy those beautiful childhood nostalgias. And Horizon Chase, being one of the greatest hits of the 80s and 90s, is the first of many games that I want to play.
The remastered Horizon Chase Turbo comes with improved graphics and sound effects, as well as maintaining the genuine arcade racing styles. It should be a perfect game for those who're tired of the typical modern racing titles.
9. Sprint Vector
Platforms: PlayStation 4, Microsoft Windows
Game genres: Racing, action
Game modes: Single-player, multiplayer
If you happen to own a PlayStation VR headset, it would be a shame not to have Sprint Vector in your racing game collection. The title features competitive VR racing with both single player and multiplayer modes.
The unique slide to race mechanics generates unparalleled senses of racing compared to other traditional racing titles. It's the greatest feelings in virtual reality where you are fully immersed in the digital world, and the sense of time and space are forgotten. Perform incredible tricks and skills on your feet to create awesome effects.
The game is super fun and promising, plus, you won't have to go to the gym anymore as the in-game actions are enough for a full cardio exercise.
10. WRC 7
Platforms: PlayStation 4, Xbox One, Microsoft Windows
Game genre: Racing
Game modes: Single-player, multiplayer
Join the world best drivers in the World Rally Championship and experience the most competitive tournaments throughout the season. Take on the toughest opponents in one of the biggest racing events of the year.
The game comes with serious improvements after the almost disastrous WRC of 2016. The touch simulation has managed to create a sense of speed and danger while driving in rough terrain or difficult weather conditions. Though it still has some drawbacks, bringing touch simulation to the franchise has certainly been a right decision.
In addition, the introduction of Epic Stages and split-screen multiplayer has made this game much more interesting. However, we still expect more improvements in the future installments.
11. Redout
Platforms: PlayStation 4, Xbox One, Nintendo Switch, Microsoft Windows
Game genre: Racing
Game modes: Single-player, multiplayer
As a tribute to the old racing titles like Wipeout, Rollcage, or F-Zero, the game was designed to satisfy the most demanding gamers. Redout features fast, solid, and enjoyable driving experiences with an arcade racing style.
With realistic physics and precise control, each of your turn, brake, or acceleration will feel like driving in real life. Not to mention that the most updated graphics based on the Unreal Engine 4 create stunning and powerful effects with each of your movements. Every clash spark will fire, and you can almost feel the wind blowing to your face.
Currently, you can start downloading the Lightspeed Edition on your PS4. It consists of all the DLCs and customizations on the PC version.
12. Project CARS 2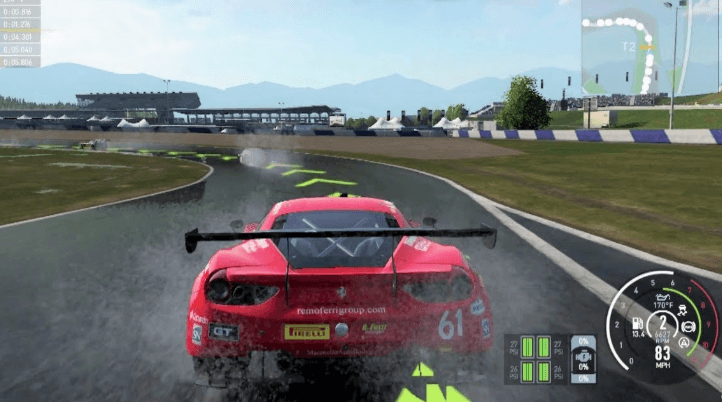 Platforms: PlayStation 4, Xbox One, Microsoft Windows
Game genre: Racing simulation
Game modes: Single-player, multiplayer
This game is the latest installment of the award-winning racing franchise, which features in-depth gameplay and rich contents. Players will have their chance to sit behind the wheel of over 170 licensed supercars from the best manufacturers, compete others in the toughest racing tracks, and even try out different types of vehicles, including Oval, IndyCar, Rallycross, etc.
Moreover, the LiveTrack 3.0 technology enables dynamic surfaces which generate true-to-life racing experiences. Each turn of the wheel, every bumper will make you feel like you're in the race. Not to mention the dynamic time of day, weather conditions, and seasonal effects are based on realistic data from your regions.
All in all, Project CARS 2 is one of the best PS4 racing games that you would see every day.
Summary: Top 10+ racing games for PS4