Monster Hunter: World – An Overview
Monster Hunter: World was released in 2018, and gained more than 7.5 million pounds of revenue in less than 2 months. Until now, Monster Hunter has still maintained its appeal to game community. It is considered a blockbuster role-playing game which is hard to resist and also is the hottest game this summer.
Platforms: PlayStation 4, Xbox One, Microsoft Windows
Game genre: open-world, action RPG
Game modes: Single player, multiplayer
Capcom has brought players to a great monster hunting game with outstanding graphics. Monster Hunter: World is truly a whirlwind in the gaming world, and nothing can stand in its way. So far, no game in the industry can compete against its coverage and brand.
To win the game, you must go with proper strategies and take your steps with caution. We will review this game based on its two main features: Hunting beasts and performing quests.
Video of Gameplay
What Makes It Stand Out
Unlike other games, levels and skill systems are not available in Monster Hunter: World. To reach the glory, one thing for sure is that you have to be strong.
Items dropped by monsters will reflect its strength and weakness. You can use these to create armor and weapons, whether you want it fire-resistant or anti-personnel,… It is up to your strategy, what your next target is and who your team members are. Make the choice wisely to enhance your strength.
The behavior and characteristics of the current monster will help you identify which is the next target you must hunt and what weapons are needed to defeat them.
Monster Hunter: World is not as complicated as you think. You don't need much time to kill monsters or to try out weapons. In addition to that, it mainly focuses on self-expansion and small details. Therefore, to become a true "Monster Hunter", you must complete the Campaign.
In the first twenty hours, you will get easy tasks and find that the game is fascinating. However, things will turn out to be a much harder when you take on more advanced tasks.
How To Play And What Is The Trick
For beginners, it will be very difficult to know what to do. Completing quests in this game won't be easy, therefore the following of this article will provide you some useful knowledge.
General Information
Each monster will have its characteristics, personality, and behavior. You can easily notice this through the game.
First, you have to identify the target monster. Then, you must return to Astera and make a mission report.
You can make use of some food if you wish for temporary higher stats. In case you are in multiplayer mode, you can team up with three more players to make the hunting trip easier and complete quests faster.
When To Take Down A Monster
Every first-ever hunt is never easy. If you are lucky, you will only meet one monster and can easily defeat it.
On the contrary, on a hunting trip, you will encounter many other monsters and they will stand between you and the achievement.
An important thing to know is that monsters have no health bar. In a battle, you will see them get tired and try to escape quickly. That is the sign. In that time, they will sleep or hunt for smaller prey to recover lost blood and power. No surprise that at this moment, the hunt simply turned into a mad chase of you and your victim.
Choose Your Weapons Wisely
The key to win over every hunt is the weapons you choose.
You have to know what kind of weapon can help you take down the target with least effort, and the way to know it is based on the monster defense actions.
Each weapon is suitable for certain types of monsters. Keep in mind that the coordination with other players to kill monsters can make both tired out. However, it won't be as intense as you imagine. There are still moments make you feel relieved.
How To Be A Tough Player?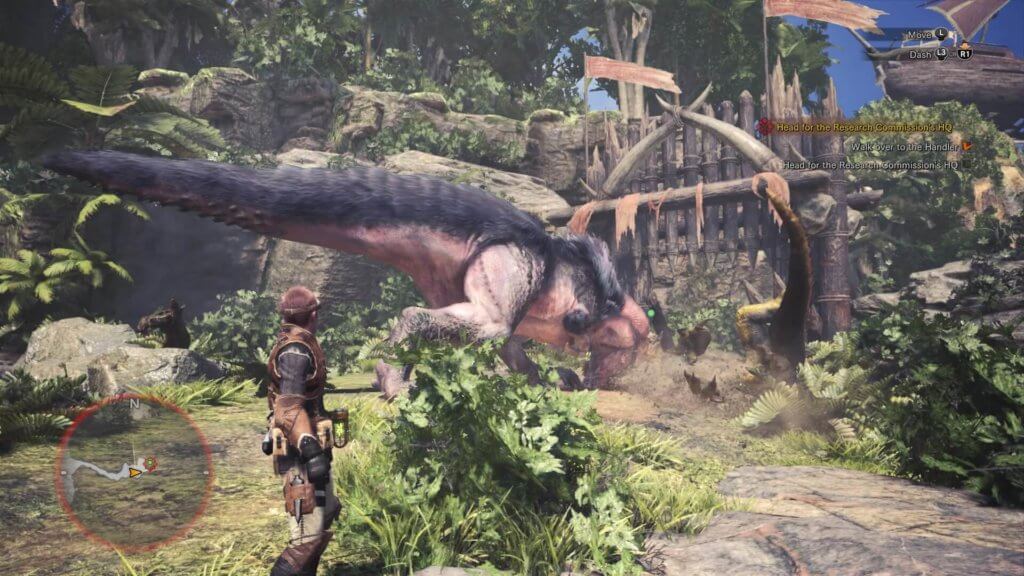 Get Instructions
You will have to know a lot of materials and steps if you want to create equipment quickly. So head up to Astera, it has what you need. It is the place where players come to search for information, instructions, exchanging goods and paying taxes.
However, those instructions are quite not enough for a front runner. The more you defeat monsters, the more you accumulate hunting experience. But because you are just starting to play, dodging would be a better option for you. Take your time practicing before receiving any important task and going head to head with monsters.
Play In Groups
Every hunting trip is a combination of missions, which means you have to deal with several monsters in a very short time.
As the game progresses, monsters appear more and more. You need to play in groups to complete the task or you will get beaten up by monsters.
Before performing the task, you should carefully make your strategy, get all playing tricks and determine which weapons are appropriate to defeat the target. This can slow down your hunt, but it is a smart tactic to win every challenge.
Make Use Of Minor Missions
You can purchase items to be stronger and take on the task with ease. But Monster Hunter: World doesn't always put players in that situation to earn money. It still provides smaller missions and those missions' reward will give you the chance to upgrade your equipment.
If you want to collect all items dropped by monsters, there is a team of Tailrider Safari to help you finish the rest very quickly.
Monster Hunter World Deserves To Be The Top Game You Should Play This Summer
Rated up to 9.0 points on Metacritic, Monster Hunter is considered the one of the best blockbuster game. It also reached the top on the PC game rankings this year. Playing this game is an experience worth trying. Hurry and become a true Monster Hunter.