Despite of their extinct millions of year ago, giant dinosaurs have always attracted human's attention and curiosity for generations. In fact, human have executed numbers of research and tried to illustrate its authentic appearance. However, what we know about this giant prehistoric creature is actually not as much as we thought. And it allows them to be the most appealing material for entertainment purposes.
If "Jurassic World" series conquered the cinemas across the world for decades, then what about game titles? Do we have any famous game series with dinosaurs? The answer is yes! Let's ẹnoy the list of dinosaurs games below!
1. Jurassic World Evolution
Publisher: Frontier Developments
Genre: Business Stimulation
Platform(s): PlayStation 4, Xbox One, Windows Microsoft
Jurassic World Evolution is a business simulation video game developed based on the 2015 film Jurassic World. In the game, players build and run a dinosaur theme park with attractions and research facilities in a group of five islands also known as the "Five Deaths".
Dinosaurs are the game's main attraction. There are approximately 40 dinosaur species featuring in the game. Players need to build enclosures to keep dinosaurs for the purpose of viewing as well as take care and feed them.
You need to keep an eye on these dinosaurs as different spices have different demands. In addition, various emergency situations may happen anytime like unpredictable weather, dinosaur breakouts, etc. Therefore, players must also deal with them to ensure guests' safety and satisfaction.
The game was built using Frontier Developments' Cobra game engine with the help of approximately 100 staffs. Universal Pictures provided the developers with dinosaur models from the films for a higher level of detail, as well as reference materials and audio.
2. Primal Carnage: Genesis (2012)
Publisher: Lukewarm Media
Genre: FPS
Platform(s): Microsoft Windows, PlayStation 4
Primal Carnage: Genesis is a first-person shooter video game developed by Lukewarm Media and was planned as a prequel to the previous multiplayer-focused game Primal Carnage 2012.
Similar to the setting of the original, Genesis's background is a remote island where dinosaurs are brought back from extinction with genetic engineering.
Players will have to take the role of a survivor after the animals escape. You need to fight in environments in which tropical nature and man-made buildings are mixed together, as well as to deal with dangerous prehistoric life.
Genesis requires players to combat various types of dinosaurs and plenty of prehistoric reptiles such as Pterosaurs. The game is empowered by Unreal Engine 4.
3. Primal Carnage: Extinction (2015)
Publisher: Circle 5 Publishing
Genre: First person-shooter (FPS)
Platform(s): Microsoft Windows, PlayStation 4
Primal Carnage: Extinction is an online multiplayer video game featuring human versus dinosaur battle. It is the remake of the original 2012 title Primal Carnage.
Set on an abandoned island where dinosaurs have been brought back to life, the player assume the mission of eliminating the prehistoric creatures, or taking control of the dinosaurs and clearing out the humans. Players can customize their characters using numerous skins, some of which will be unlocked through achieving trophies.
The game has two playable sides: the human team and the dinosaur team. Both have different methods of control and the perspective shifts from first-person as human to third person as dinosaur.
4. Monster Hunter: World (2018) – Fantastic Monsters World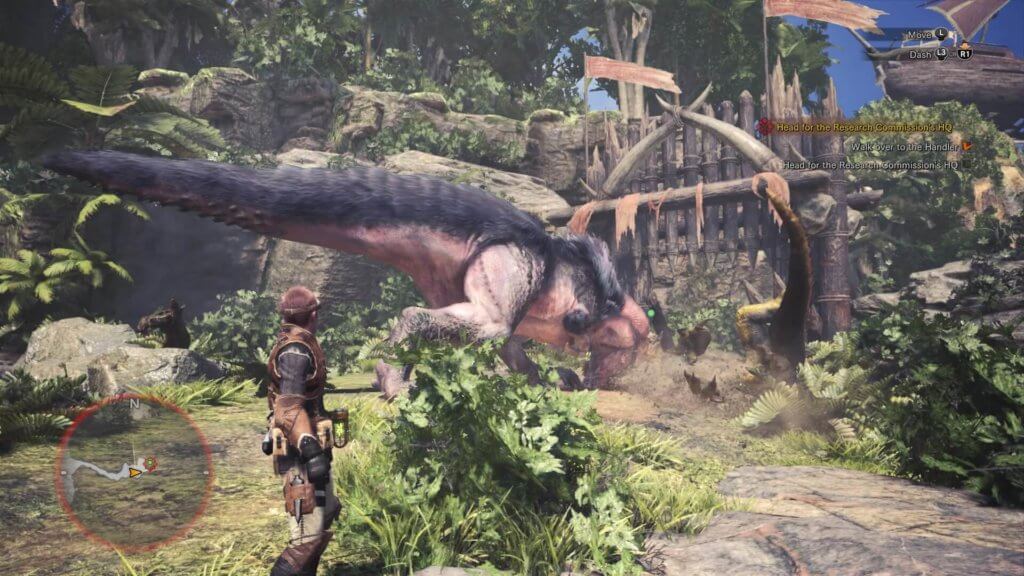 Platforms: PlayStation 4, Xbox One, Microsoft Windows
Game genre: open-world, action RPG
Game modes: Single player, multiplayer
With the sale of 7.5 million copies within 2 months since its release in 2018, and 15 million copies by January 2020, Monster Hunter: World is considered to be the best-selling game in Capcom's history. It's an actual unstoppable hurricane all over the world.
As a part or Monster Hunter series, Monster Hunter: World received various of critical acclaim which praised how Capcom was able to make the game more accessible to new players without reducing the series' core gameplay elements and difficulty. Due to its huge resources of content and high difficulty, players will have to invest much time on it.
As the Monster Hunter's tradition, plot is not something noticeable and so is Monster Hunter: World. Hunting is the only mission in the game. Players take the role of a hunter whose world is filled with of scary monsters, and your main mission is to kill them, collect materials from them to create stronger weapons.
5. Dauntless (2018) – Straight into the monsters hunt
Publisher: Epic Games
Genre: Action RPG
Platform(s): Microsoft Windows, PlayStation 4, Xbox One, Nintendo Switch
Dauntless is no doubt the best MMORPG free game in the last few years that takes gamers to enchanting and challenging monsters hunts. Its gameplay resembles Monster Hunter series, however possesses faster evolution with only 10-20 minutes each game screen.
As an online game, the interesting part of Dauntless lies in fighting together with friends when the game allows you to team up with 3 other players, which requires exceptional teamwork to fight against Behemoths monster. After each hunt, gamers will harvest materials to forge and upgrade equipment, thereby creating a foundation of strength to confront stronger monsters.
Due to the similarities in graphics and the release platform, as well as the completely free release, Dauntless is being compared as the unofficial "sibling" of Fortnite.
6. LEGO: Jurassic World (2015) – Get some fun in LEGO-themed Jurassic Park
Publisher: Warner Bros. Entertainment
Genres: Action, adventure
Platform(s): Microsoft Windows, PlayStation 4
LEGO fans definitely cannot skip this game title. LEGO Jurassic World is a lego-themed action-adventure game that adapts the plots of Jurassic Park franchise film titles. It is also the part of a series of Lego-themed videos games.
The gameplay is similar to previous Lego video games before. It consists of solving puzzles and 20 levels based on each film of Jurassic World series. The game also integrates two-player cooperation mode, more than 100 unlockable characters as well as more than 20 dinosaur species. Therefore that will be an extreme fun to enjoy together with your friends and family.
In contrast to others dinosaur action titles with fascinating plots and high difficulty, this version of LEGO is noted as largely simple and friendly, so all you need to do is relax and enjoy the game.
7. ARK: Survival Evolved (2015) – Where dinos can be your assistant or enemy
Publisher: Studio Wildcard
Genres: Action-adventure, survival
Platform(s): Linux, Microsoft Windows, macOS, PlayStation 4, Xbox One, Android, iOS, Nintendo Switch
As a gamer and dinoaholic, ARK: Survival Evolved is an absolute must-have title on your devices. Being stranded on a naked island filled with dangerous dinosaurs and prehistoric animals as well as natural hazards and hostile human NPCs, players must find their way to survive here.
The game can be played from both third-person or first-person perspective and its open world allows players to be navigated on foot for by riding dinosaurs. There are various of improvised weapons for players to defend themselves against hostile humans and creatures.
The game is powered by Unreal Engine 4 and contains thousands of artificial intelligence entities. It is recently upgraded features for VR gameplay.
8. Horizon Zero Dawn (2017) – Fight for the past
Platform: PlayStation 4, Microsoft Windows
Game genres: Action RPG, open world adventure
Game mode: Single player
Horizon Zero Dawn takes you to the future of a post-apocalyptic world of 1000 years later, where dinosaur-shaped machines and animals dominate the Earth as they are infected by something dangerous and turns them to be scary. Whereas, humans are divided into small tribes, live a life of ancient people, have to fight against machines as well as their fellow.
The game follows Aloy – a hunter, who sets out to make an exposure to her past Players must use a range of weapons, a spear, and stealth to combat mechanical creatures and other enemy forces.
Breathtaking graphic platform and a wide range of weapons as well as diversified chains of mission will definitely make you stay in this fictional world as long as possible.
9. Robinson: The Journey (2016) – An explorer's paradise
Publisher: Crytek
Genre: Visual Reality
Platform(s): Microsoft Windows, PlayStation 4
In Robinson: The Journey, players will take the role of a space traveler named Robin, who is abandoned on a planet where dinosaurs still roam. His main mission is to save his life and escape from this place.
Discovering the world around from the first-person perspective, gamers will come across a range of dinosaurs and creatures in the Tyson III ecosystem. There's always something to discover around every corner. Achievements, rare items can be found in the beaten path. Alongside, free movement allow you to go wherever you want, review your progress and revisit places you've been to.
Robinson: The Journey features vibrant graphic and realistic sound that enables players to feel their true presentation in an unfamiliar territory by the power of CRYENGINE. Players should be equipped PlayStation VR and Oculus Rift virtual reality headsets on both of platforms.
10. No Man's Sky (2016) – Adventures in vivid uncharted galaxy
Publisher: Hello Games
Genre: Exploration Survival
Platform(s): Microsoft Windows, PlayStation 4, Xbox One
No Man's Sky is an action-adventure game in which players need to participate in four main activities that includes exploration, survival, combat and trading.
Gamers will take the role as the Traveller, who is the in-game alien's planets explorer in an undiscovered galaxy. Starting with being on a random planet near a crashed spacecraft, the players are equipped with survival kit with suit, a jetpack and tools which can be used to scan and get resources in order to attack or defend oneself from hostile forces and strange creatures.
Players is allowed to collect, repair and refuel the craft that enables them to travel across the galaxy, take part in combats with alien factions or jump to the other star systems. Also, players may follow Atlas's guidance to move ahead towards the centre of the galaxy.
11. PixARK (2018) – Minecraft-esque dino-hunting journey
Publisher: Snail Games
Genre: Survival
Platform(s): Microsoft Windows, PlayStation 4
The gaming industry was totally changed since the birth of sandbox-shape-designed Minecraft. If you're looking for an eye-catching dino-hunting game with this kind design, then PixARK is for you.
In this game, the player is on an island populated by over 100 different dinosaur species as well as the main task is to maintain one's survival by examining the ins and outs of the environment and protect oneself from enemy animals and other players. The world around is randomly generated so that player need to explore it as much as he can to achieve the goals.
PixARK's quest system always automatically creates new challenges. Beside survival mode, players can also try creative mode, in which he cannot be attacked and stolen resources.
If you have PS2, read the best dinosaur games on PS2.